History of Heehaw's Redbones
As a teenager, I had a pair of Redbone Coonhounds. I did not get to hunt them much. My time was mainly consumed with my activites in FFA and showing cattle. I always regretted not being able to hunt very often. I later enlisted in the Air Force and wound up in the pan handle of Florida. I never forgot my origional dogs, so I purchased a male redbone from a breeder in Mobile AL. in 2002 and a female from a breeder in Cambellsville KY. in 2004. Nowadays I have only one that actually gets hunted anymore, but I still have the two originals from KY and AL. Recently, I have had to move my operation out to East Texas due to my commitments to the military.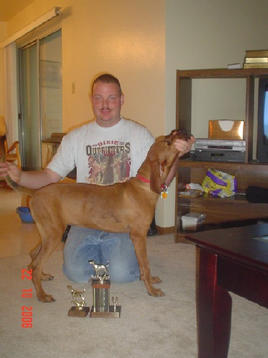 Puppy Litter Information

I have 9 pups that were born on Feb 19 sired out of PR Ellison's Willow Oak Sam. Two are already sold, but I still have 5 males and 2 females. They should be ready to go to new homes around the last week of March or first week of April. I'll will be asking $250 for the females and $200 for the males. These pups are located in Gilmer TX, which is in NE Texas. Please contact my father at 850-398-1811 if you are interested in purchasing a pup.
Contact Us
If you have any questions, comments or suggestions, please give us a call at 850-226-4638. or send an e-mail to
jandj41@cox.net